How To Sign Up For An Isagenix Preferred Customer Account
There are many advantages to signing up for an Isagenix Preferred Customer account including better pricing and more convenient ordering options. However, before signing up, it is important to understand the different options that are available to you so you can choose the one that is the best fit for you. This article will walk you through the steps to sign up for an Isagenix Preferred Customer account.
Step 1 – Go to the Isagenix website
Click here to go to the Isagenix website. This link will open in a new tab so you can continue to follow the instructions here.
Step 2 – Pick a product
Before you can open an account, you need to know what you are purchasing. You can search for the product you want by clicking on the search icon in the upper right corner.

If you don't already know what to purchase, I recommend either the 9 day system or the weight loss basic pack (formerly the 30 day system) as they are the most popular products. You can also use the online quiz (these links will open in a new tab) to help guide you to the products that are best suited for your situation.
Make sure you select the "Preferred customer" option and not "Retail". This is necessary to set up your free account and it gives you an immediate discount off the retail price.
Click the "Add to cart" button or "build my system" button depending on the product. This will take you to the next page.
Step 3 – Select country and preferred customer account type
Select your country (if necessary) and which preferred customer member type you want.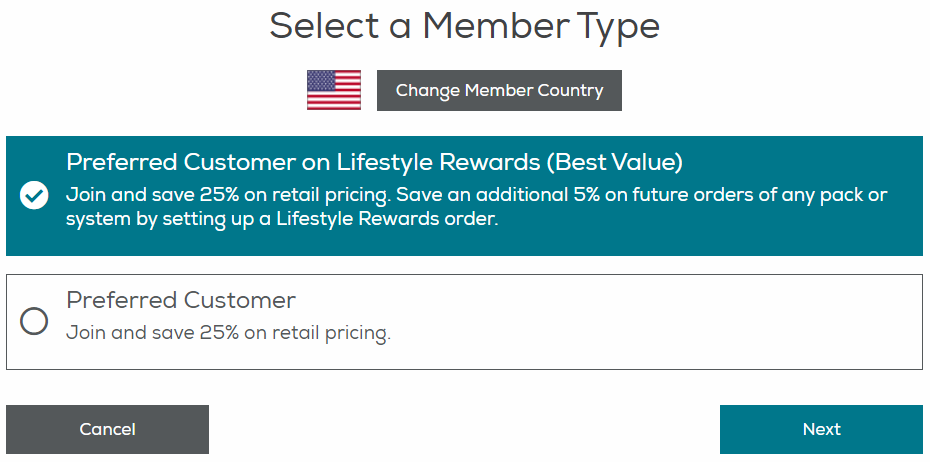 Both Preferred Customer member types receive the same product discounts (25% off retail pricing). The advantage of Lifestyle Rewards is that you get an additional 5% off for Lifestyle Rewards orders.
The Isagenix systems are designed to become part of your everyday lifestyle. To support this, Isagenix offers Lifestyle Rewards orders which automatically ship the system of your choice to you each month. This allows you to "set it and forget it" and ensure that you always stay on track with your Isagenix health and wellness goals.
Setting up and cancelling a Lifestyle Rewards order is done through your online account (also known as your back office). This can be changed at any time so there is no long term commitment if you change your mind.
Step 4 – Select products for initial order
You will already have the product you initially added to your cart. However, if you want to choose more products as part of your initial order, you can do so here.
You can choose from any of the products offered by Isagenix. Clicking on a product will add it to your shopping cart so you can add all the items you want.
After you have added the products you want to your shopping cart click on the "Continue Signup" button.
Step 5 – Select lifestyle rewards products (if chosen in step 3)
If you selected the preferred member account with Lifestyle Rewards in step 3, then you will now choose the products that will be shipped to you each month.
The products that you select on this page will be shipped a month from now by default. You can change the time of arrival by specifying it in the "First Scheduled Date" field.
The products will be shipped each month by default, but you can specify the number of days between shipments in the "Frequency" field.
Once you are happy with the Lifestyle Rewards products that added to the shopping cart, select "Continue Signup" button.
Step 6 – Enter account information
You now enter the information needed for setting up your account.
After entering your account information, press the "Next" button.
Step 7 – Enter information for payment and shipping
On the next page you will need to provide the information needed for the payment and shipping of your initial order.
Step 8 – Extra information for lifestyle rewards (if selected in step 3)
If you chose a preferred customer account with Lifestyle Rewards, you will need to provide the information needed for your Lifestyle Rewards order.
Step 9 – Review and place order
As the final step you review the summary of your order. Make sure you scroll down and press the "Place Order" button to ensure your order is submitted.
Your preferred member account is now set up!
What next?
Congratulations on your sign up for an Isagenix Preferred Customer account and ordering your initial products!
While waiting for your products to arrive you can head over to the Isagenix Product website. Here you will find more information about the products, as well as guides and videos about how to get the most of the products.
P.S. Have a friend or family member you would like to join you on your new healthy lifestyle? Consider sending them to the IsaMovie website as an introduction.
Frequently Asked Questions
How does Isagenix membership work?
When you become a member with Isagenix, you become a "Preferred Customer". There is no annual fee and Preferred Customers receive approximately 25% off all product purchases
How much is the membership for Isagenix?
There is no longer any cost to join Isagenix. You can set up a Preferred Customer account for free and enjoy all the benefits the account has to offer at no additional charge
What does Isagenix cost a month?
There is no monthly fee to join Isagenix – membership is completely free. Additionally, if you are only interested in purchasing products for personal use, there is no minimum amount of products that you need to purchase. The monthly cost is just what you decide to purchase for the month.
Where do I sign up for an Isagenix account
You can easily sign up for an account online, just follow the steps outlined above on this page. They detail where to go and what to do.
What is an Isagenix Preferred Customer?
An Isagenix Preferred Customer is a customer that has signed up for a Preferred Customer account. This account offers discounts of approximately 25% off all purchases as well as other benefits.
What are the benefits of an Isagenix Preferred Customer account?
A Preferred Customer account allows you to purchase Isagenix products at approximately 25% off retail price. You are also able to manage your account online. This gives you the ability to place and manage orders, update payment and shipping information, and manage your Autoship.
Who should sign up for a Preferred Customer account?
The Preferred Customer account will benefit anyone that wants to purchase Isagenix products. Since there are no fees, there is no reason not to sign up .
When is the best time to sign up for an Isagenix Preferred Customer account?
If you are interested in purchasing Isagenix products, you should sign up for an account – ideally with your first purchase. You will receive a discount on your first purchase and all subsequent purchases made through your account.
What are Lifestyle Rewards?
Lifestyle Rewards provides an additional discount on select products that you purchase on Autoship.
What is Autoship?
Autoship, also called Lifestyle Rewards, is a convenient way to have your favorite products automatically sent to you each month. For certain products on Autoship you receive an additional 5% discount.
How do I change my Autoship on Isagenix?
You can manage all your Autoship information by logging in to your Isagenix account and clicking on the "Manage Lifestyle Rewards" icon.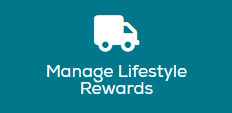 From here you can manage all your Autoship details.
Can I cancel my Lifestyle Rewards Autoship?
If you want to cancel your Autoship, simply contact Isagenix customer service and they will take care of it for you.